SugarBabies Review
SugarBabies is a popular, well known site devoted to helping sugar daddies and sugar babies find each other for mutual fun, excitement and, possibly, longer term relationships. Although SugarBabies doesn't have a long history in sugar baby dating field, it has been merged with SugarDaddyMeet which is the best sugar daddy website on the web. So it has a huge user base now. Besides, its sugar baby blog page also provides some sugar daddy dating tips, which can guide users to find sugar baby relationships online.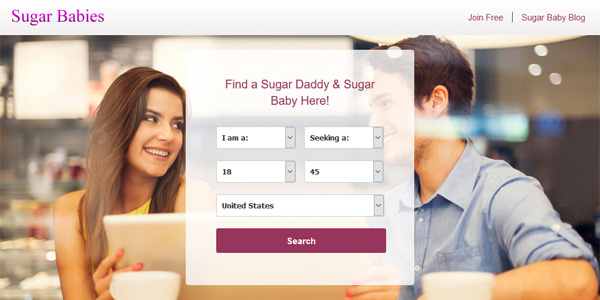 Membership base
The site started operations in 2007 and reportedly has more than 5 million members. Most of its male members are men who are more mature, financially secure and can take care of their sugar babies via a discreet and mutually beneficial relationship.
For sugar babies who want a good living and enjoy the finer things in life, the site is a place to look for a mature partner, maybe a doctor, lawyer, or other professional as a benefactors—someone to pamper, mentor and take care of them.
Signing up
SugarBabiescom.com is free to join, with standard members being able to create a profile and access many of the features of the site. The enrolment form is also easy to fill out and site members can try to find their potential partners quickly and easily.
Each member will be allowed to upload their photo and will also be given their own onsite email account; there are no joining restrictions.
Key Features
SugarBabiescom.com, in line with other sugar daddy sugar baby sites, has a two-level membership structure: standard or by paid subscription.
To actually get in touch with sugar babies or initiate email or chat sessions, members will need to upgrade to a second level membership and pay a monthly, quarterly or yearly subscription. Key benefits of such upgrading are shown below as being a Gold Member it then becomes possible to:
Search for the perfect match using the site's excellent advanced search functions
Get certified as a sugar daddy (which involves age, address, photo and income verification) to boost interest in users' profiles
Post first date ideas to their profile and see those of others
Send 'winks' to other users to let them know that users are interested in them
Add more than 25 photos to their profile
See "who's interested" and "who's viewed their profile" quickly, with just a couple of clicks
Quickly filter search results
Post questions for potential matches and friends and answer those posted by other users
Read more than 1,100 successful dating tips and advice
Connecting with others
It's possible to access the site via mobile phone or iPad, which is ideal for users travelling on business or for pleasure.
Search options
After completion of the registration process, users can conveniently use the basic search feature to find their own sugar daddy or sugar babe based on certain parameters of their choice. Naturally, paid-up members will have access to an advanced search with a much wider array of criteria, including age, characteristics and location.
Membership packages
SugarBabiescom.com offers several paid options for Gold Memberships for its monthly subscribers, as shown below:
1 month – $50
3 months – $90 (approximately $30/month)
6 months – $144 (approximately $24/month)
Obviously, the longer a member subscribes for, the lower the monthly outgoing, with noticeable savings available over a 3 or 6 month period.
Member support
The site provides extensive FAQs and technical support for all users, together with a dedicated customer support team. In addition, Gold users can enjoy access to an account manager to help with bespoke features and help them get the most out of their membership.
Interestingly, language support is available in English and German.
Privacy and security
Members can take full control of their privacy by choosing who can view their profile and SugarBabies.us maintains that its systems for protection of users' privacy is 100% effective—a pre-requisite for any internet based dating site.
Conclusion
SugarBabiescom.com, which is powered by SugarDaddyMeet.com, is an excellent place for sugar babies to find their sugar daddies and vice versa. As the site manually screens all profiles and verifies members' identity as well as sugar daddies' income to maintain a safe community, it really is one of the most effective websites for a sugar baby to find her sugar daddy.